Amplifier Systems
dPatch®
Low-Noise Ultra-Fast Digital Patch Clamp Amplifier System
Sutter Instrument is proud to introduce the latest cutting-edge tool for electrophysiology research, the dPatch® Digital Patch Clamp Amplifier. Using high-speed digital processing, matched with high-resolution data converters and paired with SutterPatch® software's intuitive user interface, this low-noise, high-bandwidth precision instrument provides capabilities previously unavailable to electrophysiologists.
Product Enquiry
If you would like to send us an enquiry about this product, please click the button below, fill in the form and submit.
Product Enquiry
Available in either a single- or dual-headstage configuration, the dPatch amplifier's architecture makes swapping headstages, or adding a second one to a single-headstage version, a plug-and-play operation. The two headstages are independently configurable for either voltage clamp or true high-speed current clamp. Data is streamed from each headstage in parallel and fully synchronized.
5 Mhz Sampling Rate, Up To 22-Bit Resolution
One unique feature with dPatch is the headstage data sampling system. Each headstage is continually sampled at 5 MHz. Output filtering has thirteen settings between 100 Hz and 1 MHz. A resolution of 18 bits is achieved at 1 MHz. For lower filter settings, automatic downsampling increases resolution while optimizing data rates. At a bandwidth setting of 1 kHz, the dPatch system provides a signal resolution of better than 22 bits.
Optimal noise performance in both the capacitive and resistive feedback ranges
When other products remove thermal energy from the headstage circuitry, it in turn heats up the headstage housing. That leads to thermal drift of the pipette and other, cumbersome side effects. One of the development goals of the dPatch headstage was achieving a comparable noise performance at room temperature, without the need for a cooled headstage. In the two resistive feedback modes, the dPatch amplifier is even quieter than any of the competitor systems.
Built-in data acquisition system means no third-party digitizer
Using a multiplexer-free design, the dPatch provides 8 fully differential analog input channels, 4 analog output channels, and 16 digital outputs (TTL). All I/O channels are sampled continuously (200 kHz for analog inputs, 250 kHz for analog and digital outputs) and available through the user interface.
Sutterpatch Software
The dPatch amplifier, in combination with SutterPatch software, has been engineered to automatically capture and store all amplifier settings, stimulus information and external experiment parameters, and associate them in time with the raw data traces. This includes all amplifier and acquisition settings, as well as timing and progress of the experiment. Fully integrated computer control of the amplifier stages means that the acquisition software is aware of the internal state of the amplifier and digitizer at all times and can track any changes that may occur. This is independent of whether a change is triggered automatically or initiated by the user.
Tracking Of Other External Data
In addition to status changes in connected hardware that are automatically tracked, the researcher can manually trigger tags to document events like stimulus application using instruments not connected to the amplifier.
Information about environmental parameters and a more detailed specification of sample properties can be recorded and stored with the raw data. A total of over 600 metadata attributes are supported. Examples include: animal species, genotype, date/time when a cell sample was prepared, recording solutions, pipette resistance, hardware properties, and detailed information about stimuli applied.
Data Visualization and Analysis
SutterPatch software has been designed to simplify the navigation and analysis of complex datasets. The scope window supports multiple view modes in both two-dimensional and an innovative three-dimensional display. The 3D view is particularly useful during assay development. Built on top of the latest version of the proven Igor Pro platform, SutterPatch combines native Igor Pro functionality with a wealth of features that are tailored to electrophysiology applications. Both the newcomer and the experienced user of patch clamp programs will feel comfortable using SutterPatch software.
Application modules provide focused functionality for particular applications.
Currently available:
Event Detection Module: A deconvolution algorithm that excels at detecting miniature synaptic events even on a noisy background.
Action Potential Analysis Module: Phase plane plot, timing and waveform statistics.
Camera Module: An easy way to document the identity and condition of the recorded cell.
A Laboratory Workhorse
While the dPatch System is ready for cutting-edge research, its feature set makes it immediately valuable in any lab setting.
Three headstage feedback ranges for optimal whole-cell and single-channel recording
Automated compensation of electrode and whole-cell capacitance
Series resistance compensation
Simple cabling, quick and easy set-up
High dynamic range of digitizer means no need for variable gain stages
High speed of digitizer means no concern about sample rate
Common Applications:
Single-channel recordings
Auditory research and other rapidly changing signals
Tissue slice recordings
Cultured cell experiments
Cell line studies from adherent or dispersed cells
Optogenetics
Features
Fully integrated single- or dual-headstage patch clamp amplifier and data acquisition system ensures quick and easy setup
Optimized for whole-cell patch clamp recordings in tissue slices, adherent or dissociated cells
Full computer control provides automated compensation of electrode and whole cell capacitance
Voltage and true current clamp capability for complete characterization of cells' electrical activity
Line frequency reduction in SutterPatch
High bandwidth enables characterization of the fastest signals
Three headstage feedback ranges for single-channel and whole-cell patch clamp recordings
Comprehensive digital compensation circuitry provides the utmost precision and signal fidelity
Bundled SutterPatch® software provides versatile data management, intuitive navigation and streamlined data analysis.
Accessories
Ground Point
The Ground Point GP-17 provides reliable, low resistance connections for a star ground configuration, the proven method to avoid ground loops in any electrophysiology setup. Accepts 9 banana plugs + 8 bare wires up to 10 gauge or banana plugs. The baseplate mounts directly on imperial or metric air table tops with the included ¼-20 and M6 screws. Made of solid, machined brass with plated banana/clamp connectors.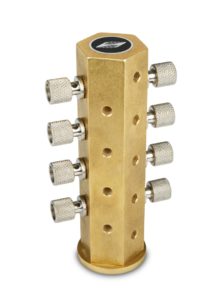 dPatch Expansion Panel

Ordering Information
| | |
| --- | --- |
| Catalog Number | Description |
| DPATCH | Includes: dPatch system with one headstage and preamplifier, EH-Q170 quartz pipette holder, model cell, screw terminal for digital outputs, rack mounting hardware; SutterPatch® software suite with Igor Pro license |
|   | |
| DPATCH-2 | Includes: dPatch system with two headstages and preamplifiers, two EH-Q170 quartz pipette holders, two model cells, screw terminals for digital outputs, rack mounting hardware; SutterPatch® software suite with Igor Pro license |
Accessories
| | |
| --- | --- |
| Catalog Number | Description |
| DPATCH-HS | Headstage & Preamp for dPatch Amplifier |
| DPATCH-PCH | dPatch Expansion panel |
| GP-17 | Ground point, accepts banana plugs and clamp wires up to 10 gauge |
| RACK-PK | Rack mounting hardware |
Pipette Holders
 While polycarbonate is a proven material for patch pipette holders, it undergoes significant thermal expansion. Uneven warming may lead to motion of the pipette tip and is often incorrectly perceived as drift in the micromanipulator. Quartz has a significantly lower thermal expansion coefficient and virtually eliminates thermal drift. (Link to video: Minimizing thermal expansion with the Sutter Instrument Quartz Pipette Holder)
Note: Quartz is fragile and may crack or shatter on impact. Treat your quartz electrode holder with the same care you would with any optical component.
| | |
| --- | --- |
| EH-P170 | Polycarbonate pipette holder 1.0-1.7 mm O.D. |
| EH-Q170 | Quartz pipette holder 1.0-1.7 mm O.D. |
Technical Information and Videos
User Manual
Product Information
Dynamic Clamp Flyer
dPatch Sales Flyer (English version)
SutterPatch® Sales Flyer
Comparison of Sutter Amplifier Systems
Videos
SutterPatch Informational Video
Minimizing thermal expansion with the Sutter Instrument Quartz Pipette Holder
SutterPatch Walk-Through: #1 Introduction
SutterPatch Walk-Through: #2 Amplifier Control
SutterPatch Walk-Through: #3 Routines
SutterPatch Walk-Through: #4 Data Navigator and Metadata
SutterPatch Walk-Through: #5 Application Modules
Amplifier
Hardware architecture enables all data conversion to be performed near the preparation, well away from known noise sources, such as power supplies and high-speed digital circuitry.
Voltage clamp and true current clamp modes with smart switching between modes to avoid current artifacts
Three choices of headstage feedback elements to optimize both single-channel and whole-cell recording
Feedback
Element
Range
Analog
Bandwidth
Noise
10 kHz BW
Pipette
Compensation
Range
Series
Resistance
Range
Cell
Capacitance
Range
Capacitive

±20 nA

> 500 kHz

< 0.22 pArms

20 pF

N/A*

N/A*

500 MΩ

±20 nA

> 250 kHz

< 0.7 pArms

20 pF

100 MΩ

100 pF

50 MΩ

±200 nA

> 250 kHz

< 2.3 pArms

20 pF

10 MΩ

1000 pF

* Capacitive feedback range is optimized for single-channel voltage clamp recordings. Whole-cell compensation and current clamp mode are disabled with this range.
Automatic compensation routines for pipette compensation and whole-cell compensation, and series resistance compensation
Series resistance prediction and correction independently programmable
8-pole Bessel filter 0.1, 0.2, 0.5, 1, 2, 5, 10, 20, 50, 100, 250, 500, 1000 kHz
Signal processing of filter output to increase resolution and reduce data file size
Resolution over 22 bits at 1 kHz filter setting
High dynamic range of analog to digital converters alleviates need for variable output gain stages
Holding potential ±1000 mV
Current clamp bridge compensation and pipette capacitance compensation
Slow holding potential tracking compensates for drift during current clamp recordings
Data Acquisition
Embedded data acquisition system eliminates the need for an external data acquisition board

5 MHz sampling rate per headstage, 22-bit resolution
8 Auxiliary analog inputs, 16-bit fully differential, ±10 V input, each continuously sampled at 200 kHz
4 Analog outputs, 16-Bits, ±10 V output each continuously updated at 250 kHz
16 Digital outputs (TTL) each running at 250 kHz
Independent Trigger IN / Trigger OUT for synchronization of external instrumentation

Single SuperSpeed USB 3.0 connection controls data acquisition and amplifier
Complex command waveforms
Data acquisition can be initiated by an onboard microsecond clock or external (TTL) trigger
Dimensions
dPatch: 19 in x 11 in x 3.5 in | 48.2 cm x 28 cm x 9 cm
dPatch Preamplifier: 7.6 in x 3.5 in x 1.2 in | 19.5 cm x 9 cm x 3 cm
dPatch Headstage: 3.9 in x 1.4 in x 0.75 in | 10 cm x 3.5 cm x 1.9 cm
Weight
dPatch: 15 lbs | 6.8 kg
Electrical
110/240 Volts
50/60 Hertz power line
*Patent No. US 10,393,727 B2
Built on the foundation of Igor Pro 8 (WaveMetrics, Inc.)
Paradigms and Routines provide complete experimental control
Waveform Editor for easy creation of even the most complex stimulus patterns or user-defined templates
Associated Metadata stores all relevant information regarding your experiment
Comprehensive data analysis routines and publication-quality graphics
Rapid-response online line-frequency reduction
Runs on Windows 10 or later (64-bit), or Macintosh OS X 10.11 (El Capitan) or newer versions
System Requirements
Minimum Configuration:
Windows 10 (64-bit), or MacOS: 10.11, El Capitan or later
Processor: Dual-core i5
Memory: 8 GB
Solid-state drive (SSD): 500 GB or greater
Display Resolution: 1024 x 768 (XGA)
1 available USB 3.0 SuperSpeed port (on the main board, not a PCIx card or similar)
Recommended Configuration for Bandwidths of >50 kHz:
Windows 10 (64-bit), or MacOS: 10.11, El Capitan or later
Processor: Dual-core i5
Memory: 16 GB
Solid-state drive (SSD): 500 GB or greater
Display resolution 1920 x 1080 (Full HD)
1 available USB 3.0 SuperSpeed port (on the main board, not a PCIx card or similar)
SUTTERPATCH® Data Acquisition Management System and Analysis Software: Included with all Sutter Instrument Amplifier Systems
Notes:
USB 3.0 ports are compatible with USB 2.0 High Speed specifications.
Slower USB 2.0 'full-speed' ports, which are sometimes found on older Windows PCs or USB add-in cards, are not supported.
To check for High Speed USB 2.0 or USB 3.0 on a PC computer running Windows, look in the Control Panel > Device Manager > Universal Serial Bus controllers section for "Enhanced" host controllers. As this does not provide any mapping information to the computer's physical ports, and there can be a mix of USB port versions, you should check individual USB ports for USB 2.0/3.0 High Speed operational performance. As a visual indicator, USB 3.0 ports are often color coded blue.
USB hubs are not supported. USB add-in cards, even if they formally meet High Speed or Super Speed specifications, are not recommended. They are often architecturally configured as USB hubs and may lead to intermittent transfer errors that are hard to troubleshoot.
Operating systems installed within virtualization software platforms such as VMware and Parallels are not supported.