BIOPAC
Inspiring people and enabling discovery about life
Measure physiology anywhere, anytime, from any subject with innovative, compatible solutions
that can be used by anyone for meaningful discovery & high-quality, scientific interpretation.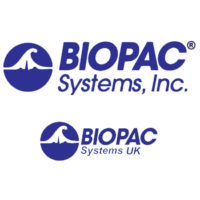 Discover More Today
Make greater discoveries in the lab, in the MRI, and in real-world and virtual environments using BIOPAC wired and wearable wireless physiology measurement and interpretation solutions. Cited in over 36,300 peer-reviewed journal articles & scholarly references and trusted by the world's premier laboratories and leading researchers, BIOPAC's world-class life science research platforms provide the most advanced acquisition and analysis of ECG, EDA (GSR), EEG, EGG, EMG, EOG, and over 300 other signals and physiological measurements.
Engage Students, Inspire Great Teaching
Increase student engagement and deliver inspired teaching—before, during, and after the lab—with the Biopac Student Lab System, the gold standard for life science education. Preferred by faculty in the best learning institutes around the world for its superior flexibility, ease of use, student engagement, and educator support, the Biopac Student Lab System's integrated hardware, software, and curriculum complement physiology, exercise physiology, psychology, pharmacology, biomedical engineering, nursing, and medical school undergraduate and post-graduate programs.
BIOPAC, the world leader in life science data recording, is pleased to present free webinars with experts from BIOPAC Systems and selected academic and industry partners to help researchers in university or commercial settings maximize the potential of their systems and studies.
View upcoming and on-demand webinars here
Physiological Data Acquisition and Analysis Systems for Research and Teaching. Due to the extensive range of products offered by BIOPAC please use the links provided here to browse the BIOPAC website directly. Any enquiries through the BIOPAC website will be redirected to Linton Instrumentation (BIOPAC Systems UK)