The World's First Totally Implantable, Programmable Micro Infusion Pumps for Mice and Small Animal Infusion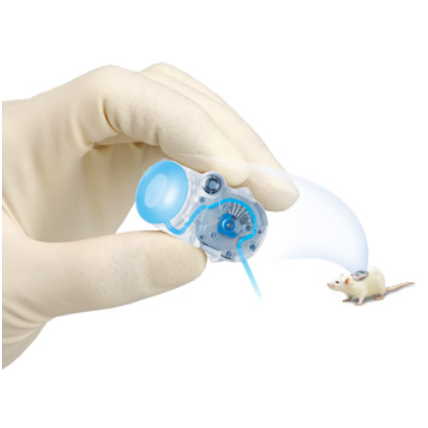 Models available for mice (SMP-310) or rats (SMP-200)

Accurate patented Rotary Finger Method. Every pump is factory tested and calibrated
Better than ±5% accuracy
Programmable infusions protocols (simple and complex)

Totally implanted in subcutaneous space
Refillable (reservoir) percutaneously via refill port with re-sealable septum
With iPRECIO® catheters, test your drug's effects nearly anywhere
Easy to use menu driven software for infusion protocol programming
Implantable
The pump can be completely implanted in small laboratory animals subcutaneously. Thus, the animal moves freely without any restrain (i.e. tethering) during drug infusion. Additionally, infection risk is reduced, and the animal is likely to be significantly less stressed than in a tethered infusion model.
Refillable
You can replenish any medical fluid in the pump via percutaneous access to the pump refill septum and reservoir after implantation of the pump.
So, long-term drug infusion can continue until the installed battery life has run out.
The reservoir is elastic and configured in such a geometry as to allow gentle palpation to confirm an approximate level of fluid in the reservoir.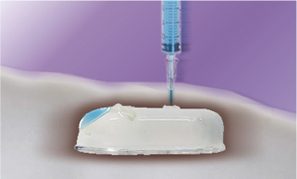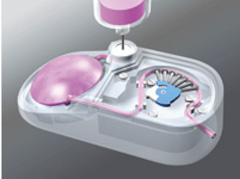 Programmable
Using the easy to use state of the art iPRECIO® software, header information along with infusion protocol details are entered and ultimately downloaded to the pump's memory. See individual pump model pages for specifications on flow rates and available modes.
The programmable feature will make iPRECIO pumps indispensable for applications where accurate flow infusion, recovery/washout periods, constant/variable dose or complex circadian infusion studies are necessary.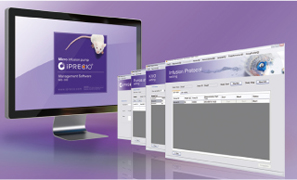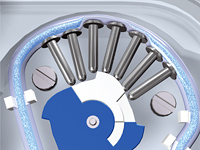 Precision
The technology driving the infusion is a patented "Rotary Finger" method. This method is a unique form of peristalsis. The precise "micro-stick" pushes a rubber tube in the pump in a uniform and sequential manner. The accuracy of iPRECIO is +/-5%.
Quick Overview
310R for mouse or larger (new!!)

200 for rat or larger

Model

SMP-310R/IMS-X10R

MP-200/IMS-200

Appearance of the pump
Dimension

L x W : 24.8 x 15.0 mm 
H : 7.2 mm
(Max. height : 7.5mm) 

L x W : 38.7 x 19.2 mm 




H : 9.7 mm

Volume / Weight

2.26 cc / 3.4 g

7.20 cc / 7.9 g

Type

Implantable SC

Implantable SC

Animal Species

Mouse or larger

Rat or larger

Reservoir Volume

130 µL

900 µL

Flow Rate
(Setting Resolution)

0.0 – 10.0 µL/hr (0.1 µL/hr)

0.0, 0.2, 0.5 & 1.0 – 30.0 µL/hr (0.1 µL/hr)

Flow Steps / Repeat

15 / Yes

10 / Yes

Battery Life

0 & 0.1 µl/hour 67 days
1 µl/hour up to 41 days
8 µl/hour up to 10 days
10 µl/hour up to 8 days

0, 0.2, 0.5, 1 µl/hour - 6 mths
2.5 µl/hour - 86 days
30 µl/hour - 8 days

Programmable

Wireless Preprogrammable

Preprogrammed prior to implantation

Wireless Distance

1 to 6 m

-

Communication Availability

1m, 1h, 2h, 4h, 6h, 12h, 24h and NONE (8 choices)

-
Implantable Micro Infusion Pumps
Showing all 2 results