Product Enquiry
If you would like to send us an enquiry about this product, please click the button below, fill in the form and submit.
Product Enquiry

iPRECIO SMP-300 – Implantable Micro Infusion Pump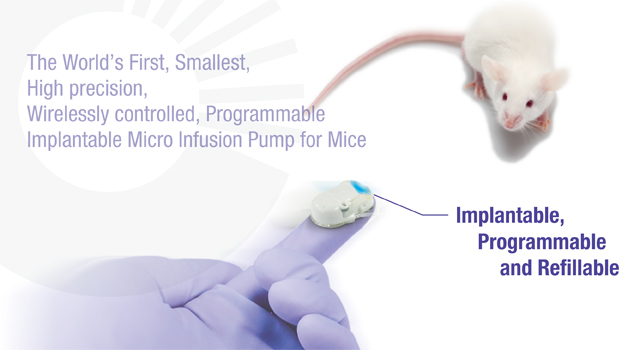 This implantable infusion pump uses a patented, microprocessor controlled peristalsis mechanism for accurate controlled flow. It is the only implantable and programmable pump for mice . iPRECIO® can infuse fluids continuously at accurate low flow rate via software programming and it can be refilled via a percutaneously accessible port.
SMP-310R Key Features
Accurate patented Rotary Finger MethodEvery pump is factory tested and calibrated

Better than +/-5% accuracy
0 µl/hour to 10.0 µl/hour in 0.1μl/hour steps
101 discreet infusion flow-rates
Programmable infusions protocols (simple and complex)

Totally implanted in subcutaneous space
Refillable (reservoir) percutaneously via refill port with re-sealable septum
With iPRECIO® catheters, test your drug's effects nearly anywhere
Easy to use state of the art software for infusion protocol programming using profiles.
---
SMP-310R Pump's Structure

---
Implantable
The pump can be completely implanted in small laboratory animals subcutaneously. Thus, the animal moves freely without any restrain (i.e. tethering) during drug infusion. Additionally, infection risk is reduced, and the animal is likely to be significantly less stressed than in a tethered infusion model.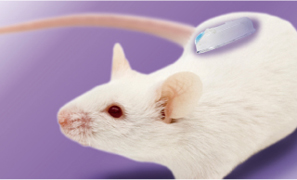 ---
Refillable
You can replenish any medical fluid in the pump via percutaneous access to the pump refill septum and reservoir after implantation of the pump. Therefore, long-term drug infusion can continue until the installed battery life has run out. The reservoir is elastic and configured in such a geometry as to allow gentle palpation to confirm an approximate level of fluid in the reservoir.

---
Programmable
Using the easy to use state of the art iPRECIO® software, header information along with infusion profile details are entered and ultimately downloaded to the pump's flash memory. Start Time, End Time, Flow-rate (0.0µl/hour to 10.0µl/hour), and infusion profiles maybe programmed. These profiles include sustained release, modified release, chrono release and pulsatile release. A total of 15 steps with repeat function allows both complex and simple infusion profiles to be programmed.
A recovery period may also be programmed using the Keep Vein Open Function (KVO) where saline is initially filled in the reservoir. A dead volume flushing function also ensures that the test article (TA) hits the animal at the programmed time point.

The programmable feature will make iPRECIO® pumps indispensable for applications where accurate flow infusion, recovery/washout periods, constant/variable dose or complex circadian infusion studies are necessary.

*subject to battery life
15 steps for flow rate or dose programming : 0.0 – 10.0 ul/hr
Each flow profile may contain up to 15 doses or flow rate steps. A single step would mean a fixed continuous dose or flow-rate for the study duration. A more complex infusion profile will contain more than 1 step and may contain up to 15 steps.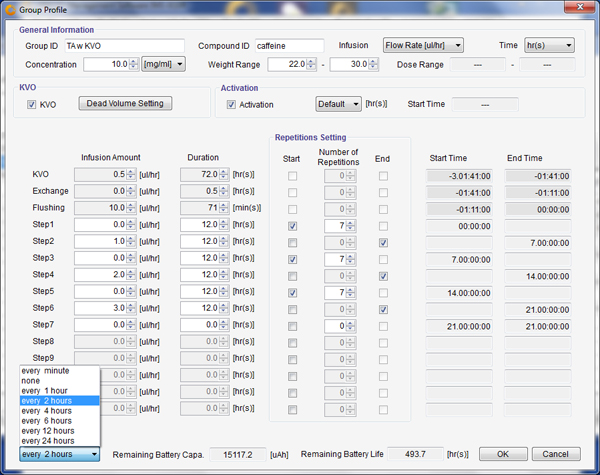 In addition to the 15 steps, Repeat Mode may be used. Repeat Mode allows more complex infusions like circadian rhythm, modified release, chrono release and pulsative release to be programmed for daily/weekly/etc repeats.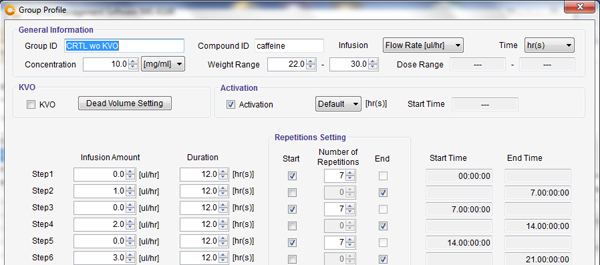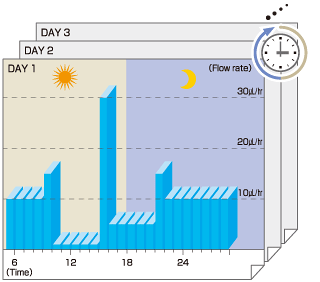 Keep Vein Open (KVO) Function
KVO checkbox and Dead volume setting.

A recovery period may be programmed into the flow profile using the KVO checkbox and Dead Volume Setting Options. KVO function where saline or vehicle is infused to ensure patency of the catheter. During this time, the animal recovers from the implant surgery.When using KVO, a function of the software allows to calculate the total dead volume of the catheter and pump to ensure that the test article (TA) or drug hits the animal at the programmed start time. Flushing of the dead volume may be programmed by the user and the software automatically calculates when to exchange saline/vehicle to TA/drug.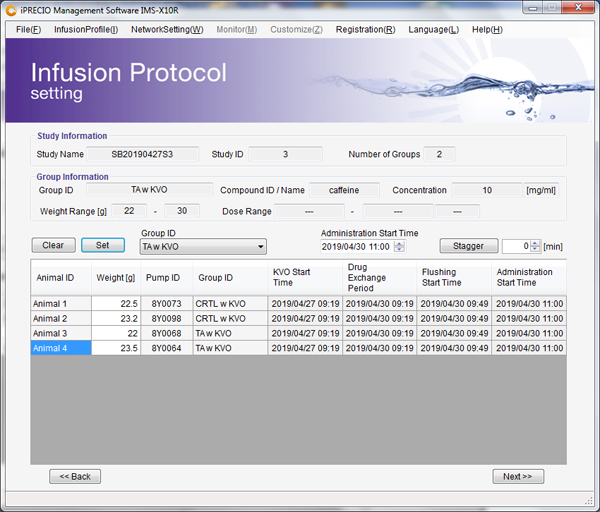 Programming Workflow
Start of Study Design

Study name, ID , user and date are input and saved.

Pumps and Animal Setting

Here, total number of animals for study are entered and associated with an animal ID. Information including weight, sex, species, strain, administration site may be entered and saved.


Infusion Profile (Group ID) Programming including Keep Vein Open (KVO) SettingWhen requiring a recovery period following surgery, KVO setting may be used to maintain catheter patency and also program a dead volume flush as a next step. Following these steps, Drug Administration Protocol may be programmed – continuous, intermittent, circadian & bolus. Everything required is programmed into the Infusion Profile (Group ID).

Infusion Protocol Setting

This step is to program the TA or drug administration start time. If programmed, it also includes the parameters for flushing the dead volume and pump start time based on calculated dead volume, flushing flow-rate and exchange stop time.

Communications Available (Comms Avail) is also programmed in Infusion Profile (Group ID).
Monitoring Function
Monitor Function allows the user to follow the infusion profile in detail. Refill dates/exchange dates and alarms are also managed and displayed here.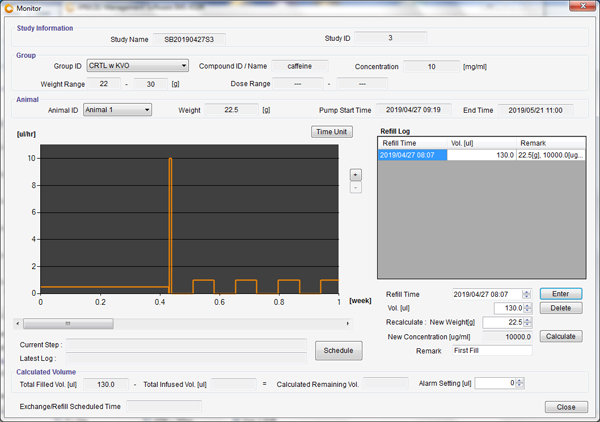 Battery Life
The battery life is up to 68 days at a flow rate of 0.1μL/hr continuously. Battery life is calculated and estimated in iPRECIO® Software and this is dependent on pump switch on date, infusion profile including KVO and communication availability selected. These specifications are subject to change for product improvements. Exact durations and calculations will be managed by the iPRECIO® Software. When used in preprogrammed (None/no communication) mode, battery life is maximized. When communications availability is set to 1 minute, maximum responsiveness is selected and this gives the lowest battery life.
Communications availability does not mean that there will always be data or connection every minute.
Actual data will be dependent on wireless environment and infusion protocol.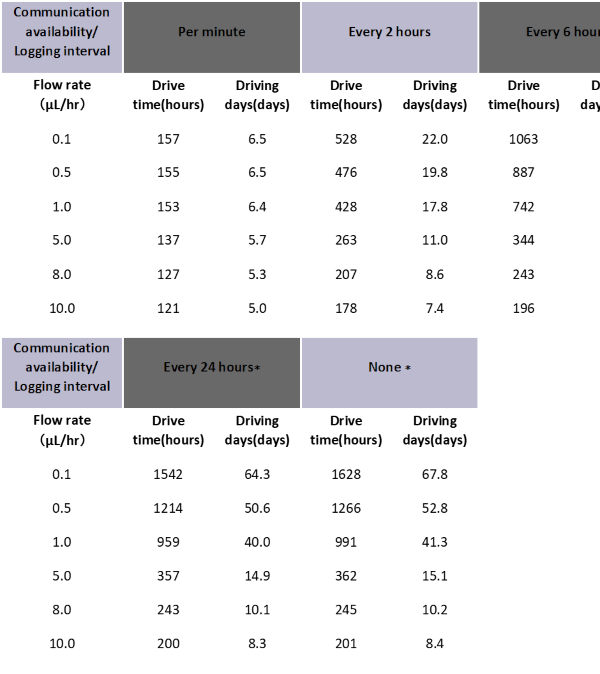 * Depending on wireless environment, infusion protocol programmed, communication availability/logging interval, pump logs may be overwritten before being collected.
** Table above outlines the maximum battery life for the programmed protocol and pump switch on time. Exact battery life will be dependent on pump switch on time, programmed infusion protocol, and selected communication availability. iPRECIO Management software helps the user calculate battery life for selected programming.
***Not all communication availability options shown in table. Full options: Every minute, None, every hour, 2 hours, 4 hours, 6 hours, 12 hours and 24 hours in Application Software.
---
Wireless
Wireless programming allows all pumps to be conveniently detected, assigned, programmed and monitored via our IMS-310R iPRECIO Management system. Once completely programmed wirelessly, the iPRECIO SMP-310R Pumps will independently infuse as programmed until completed or aborted without any further communications with the IMS-310R.
In ideal conditions* with a small number pumps, SMP-310R Micro Infusion Pump allows in-vivo re-programming for maximum flexibility. If no effect is detected, pump may be re-programmed to infuse at a higher flow rate. A higher concentration drug/TA may also be used. Communications Availability (Comms Avail) of SMP-310R may be programmed to maximize battery life or maximum responsiveness. Options are provided in Infusion Profile (Group ID) settings.
*ideal conditions: every minute communication availability, low external wireless interferences, pumps close to programming station, etc. Contact Primetech Corporation (iprecio@primetech.co.jp) to discuss in more detail in-vivo requirements.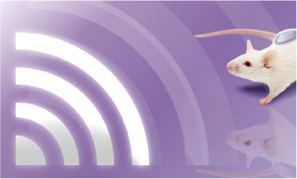 ---
Precision
The technology driving the infusion is a patented "Rotary Finger" method. This method is a unique form of peristalsis. The precise "micro-stick" pushes a rubber tube in the pump in a uniform and sequential manner. The accuracy of iPRECIO is +/-5%.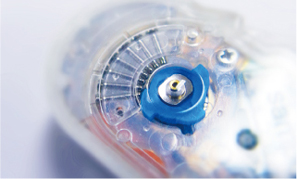 ---
Research Applications
Tabular highlights gives a high level view of how iPRECIO implantable micro infusion pumps were used/programmed in selected scientific publications
Micro Infusion Pump iPRECIO®
Infusion Method
Rotary Finger Method (patented peristalsis)
Reservoir
130μL Built-in Elastic Reservoir (Medical Grade SEBS)
Tubing
Inner Tubing : (Material)Medical Grade SEBS

Outer Tubing : (Material)Medical Grade SEBS (3Fr)
(Size) Inner Diameter :0.55mm / Length :approx. 140mm

Refill Port
φ2mm refill port is on the top of the pump.
Data Communication
Wireless (Frequency : 923.1 MHz *North America / FCC)
(Frequency : 865.5 MHz *Europe / CE)Communication Distance :
1-6 meter radius of transmitter (This is based on open field conditions)
Antenna
Embedded FPC pattern antenna inside a pump
Range of Flow Rate(FR)
0.0 – 10.0µL/hr (Resolution:0.1µL/hr)
*discharge volume by 1 time rotation of the cam:3.2µL
Accuracy
±5% (under 0 – 80cmH2O pressure) Reservoir volume 20μL to 100μL
Battery Life
Continuous driving life : FR 0.1µL/hr:67 days, FR 8.0µL/hr:10 days, FR 10µL/hr:8 days for No-Comms mode Setting (none).
FR 0.1ul/hr : 6.5 days , 8ul/hr : 5 days, 10ul/hr : 5 days for Comms Avail of 1 minute.
Power On & Activation Method
Pump is switched ON magnetically. (S Pole -ON & N Pole – OFF) magnetic strength > 100mT. Pump activation is programmed in Infusion Profile (Group ID)
Size
24.8(L) x 15.0(W) x 7.4mm partially 8.2 (H)Max mm
(not including outer catheter)
Weight
3.4g or less (including outer catheter)
Volume
2.26cc
Type of Usage
Disposable (Not designed for re-use)
Package
EO Sterilized blister package (5pcs/box)
sterilization
2 years
| | |
| --- | --- |
| Sterilized Blister Package | Pump (5pcs/box ) SMP-310R |
iPRECIO® Management System
Data Communication Device
Interface
Ethernet(crossed cable)
Operates via intranet/internet by setting fixed IP address with the data communication device.
Communication with Pump
Wireless (Frequency: 923.1 MHz *North America / FCC)
(Frequency:865.5 MHz *Europe / CE)
(Not broadband, individual communication between data communication device and pumps.)
Power Supply
USB adapter included [Weight] 35g [Length of cable] 1.1m
DC Output : 5V 0.5A
Size / Weight
145(L) x 95 (W) x 55(H) mm / TBD
Accessories included
1 Ethernet cable(3m), USB DC adapter cable(1.1m)
Management Software
Study Management
Study Information, Animal Information, Group Information
User Account
Register, manage user account name and password,
Administrator Information
Automated Recognition of Pump
Pump's ID and Calibration Factor are recognized by wireless data communication.
Pump Programming via Software
 
> Programmable Parameters
Start day / time, Flow rate or Dose Setting, Duration of infusion
> Programming Infusion Steps
Maximum of 15 steps (including KVO) of flow rate (or dose) as needed. Grouping of multiple steps and repeating such groups are available.
> Auto Calculation of Battery usage and infusion duration
When you input infusion protocol, it shows automatically remaining battery(time) and infusion duration (start and end time of each steps) on the window.
> Dead Volume Setting
Using value calculated by catheter size(diameter) and length or input measured actual volume.
> Flushing Setting
Available KVO Setting (Flow Rate : xx μL/hr, Duration :xx days)

You can load preset default values or set dead volume and flow rate for each study.

Monitoring, Management of infusion shcedule
Manage infusion volume and schedule, Checking and record refill and replacement of infusate timing, Setting threshold of remaining volume in the reservoir, Showing alart inside the window
Log
After infusion , you can export study data and infusion log in CSV format. Infusion log is transfered to the software in order by wireless data communication during infusion.
PC OS compatible
Windows 7 Professional or higher, Windows10 Pro/Enterprise/Education
Japanese and English Language with major PC manufacturer
| | |
| --- | --- |
| Data Communication Device (UCD-X10R) | Management Software |
*iPRECIO® Management System is sold as IMS-310R which consists of data communication device (UCD-X10R) and Management Software, User Manual.