System, VetFlo™ high flow vaporizer
VetFlo™ Anesthesia System
Kent Scientific's small animal and rodent anaesthesia vaporizer is one of the easiest to use and most economical gas anaesthesia systems on the market.
Perfect for laboratory and veterinary anaesthesia delivery, the VetFlo™ Anaesthesia System is completely self-contained and portable.
Product Enquiry
If you would like to send us an enquiry about this product, please click the button below, fill in the form and submit.
Product Enquiry
Kent Scientific's VetFlo isoflurane and sevoflurane vaporizers are traditional anaesthesia systems that allow for the proper, safe, and effective delivery of inhalant anaesthesia for rodents, for use in laboratory settings or as a veterinary anaesthesia machine.
The VetFlo system is available as a single animal system including stand, isoflurane vaporizer and accessories, or can be configured for multiple animal use with two, four or six channel stands and a choice of isoflurane and sevoflurane vaprorizers (funnel or key filled).
The single channel stand system includes the following items:
Tabletop stand (13″ H x 12″ W x 10″ D)
One inlet flowmeter, 0 to 1000 mL (A 200 to 4000 mL flowmeter is available in both single and multi-station systems, except on 6-channel systems)
One set of inlet/outlet caps
Charcoal filter canister
High-pressure oxygen hose with DISS fittings
The VetFlo™ Traditional Anesthesia System with isoflurane vaporizer includes a 3-year warranty.
Features
| | |
| --- | --- |
| Brand new vaporizer canisters | Never reconditioned or remanufactured |
| Superior design | Durable stand, accurate, high-quality flowmeters, small footprint |
| Complete systems | Includes all the tubing and connectors needed |
| Simple set-up and use | Y-adapter tubing for easy transfer from induction chamber to anaesthesia mask |
Optional Add-Ons
Optional induction chambers and anesthesia masks are available for purchase, or select a convenient, cost-effective Anesthesia Starter Kit that includes all the components necessary for your setup. See all VetFlo™ accessories ›

Why Use a New Vaporizer?
For your safety, the safety of your animals and the integrity of your study, Kent Scientific offers genuine, new vaporizers manufactured specifically for either isoflurane or sevoflurane. Although remanufactured or reconditioned vaporizers cost less, there have been reports of poor performance related to how the vaporizers are actually "remanufactured." It is very costly to truly recondition a vaporizer to a specific agent and if not done properly, it could result in unknowingly overdosing your animal.
You may also run into problems with annual calibration if your vaporizer was not reconditioned properly.
Reference: Laboratory Animal Anesthesia
Laboratory Animal AnaesthesiaAuthor: P. A. Flecknell
Publication date: 2009/ 304 pages / 3rd Edition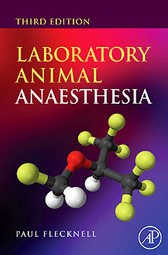 The additions and amendments to this new edition reflect developments in anesthetic practice and changes in our attitudes towards laboratory animal welfare. Standards of anesthesia for laboratory animals have increased greatly since the publication of the second edition, and the use of technically demanding procedures have become much more widespread. This new edition attempts to balance the need for additional information in these areas with the main goal of the first edition: the provision of an introductory text for new investigators.
New edition provides new information on anaesthesia and analgesia, and has an extensively revised and updated bibliography.
Provides a balanced consideration of the needs of scientific research and the welfare of laboratory animals.
Written by a veterinary anaesthetist and scientist with over 30 years experience in the field, and who is actively engaged in research in this area
Provides rapid, easily accessed information using tabulated summaries
Provides those with limited experience of anaesthesia with the information they need to carry our procedures effectively, safely, and humanely.
Provides sufficient depth for the more experienced anaesthetist moving to this field
---
Support Documents
Anaesthesia Mask Circuit Instructions
Small Animal Anaesthesia Whitepaper
VetFlo™ Operating Manual
VetFlo™ Users Manual