Product Enquiry
If you would like to send us an enquiry about this product, please click the button below, fill in the form and submit.
Product Enquiry
The SomnoFlo® is a compact, standalone vaporizer that uses either ambient air with an internal air pump or compressed gas. It delivers only the anesthetic required by the animal according to its weight with flows down to 0.05 LPM.
NO MORE USING HUMAN AMOUNTS OF ANESTHETIC FOR A MOUSE!
SomnoFlo® is a low-flow electronic vaporizer with an automated delivery system. Just connect your anesthetic bottle directly to SomnoFlo and the system is ready for your procedure.
System Includes
Integrated touch-screen display
Internal 100 mL anesthetic bottle compartment
External 250 mL bottle connection and holder
Anti-spill, anti-vapor bottle top adapter
Two accessory adapter
WAG canister and holder
1-Year 100% Parts & Labor Standard Warranty
Anaesthetic Delivery System
SomnoFlo draws anesthetic directly from the 100mL bottle within the unit with easy access, while 250mL bottles are placed in a convenient holder outside the vaporizer.
| | |
| --- | --- |
| Features | |
| Extreme Precision & Accuracy, Flow Rates as Low as 50mL/min | Just right for mice and other small animals |
| Ambient Air or Compressed Gas | Saves time, increases accuracy, decreases WAG |
| Less Waste Gas Exposure | Increases user safety |
| Automated Anesthetic Delivery System | Ensures precision to 0.1% |
| No Annual Calibration or Certification | Provides for reproducible and uninterrupted studies |
Operates With Ambient Air or Compressed Gas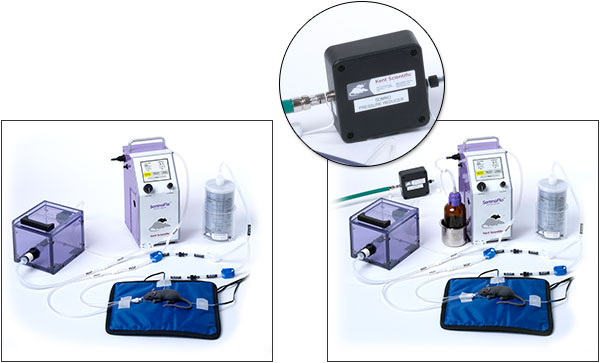 Intuitive Touchscreen Control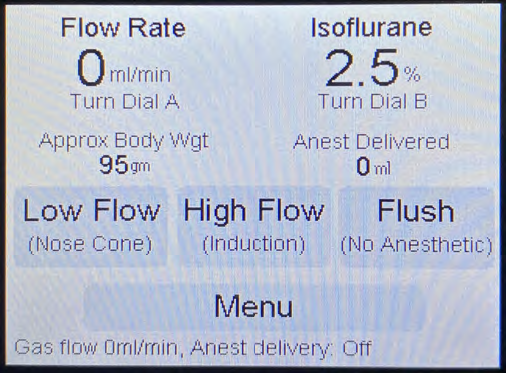 Easy to follow controls on SomnoFlo's touchscreen display ensure simple, intuitive operation.
---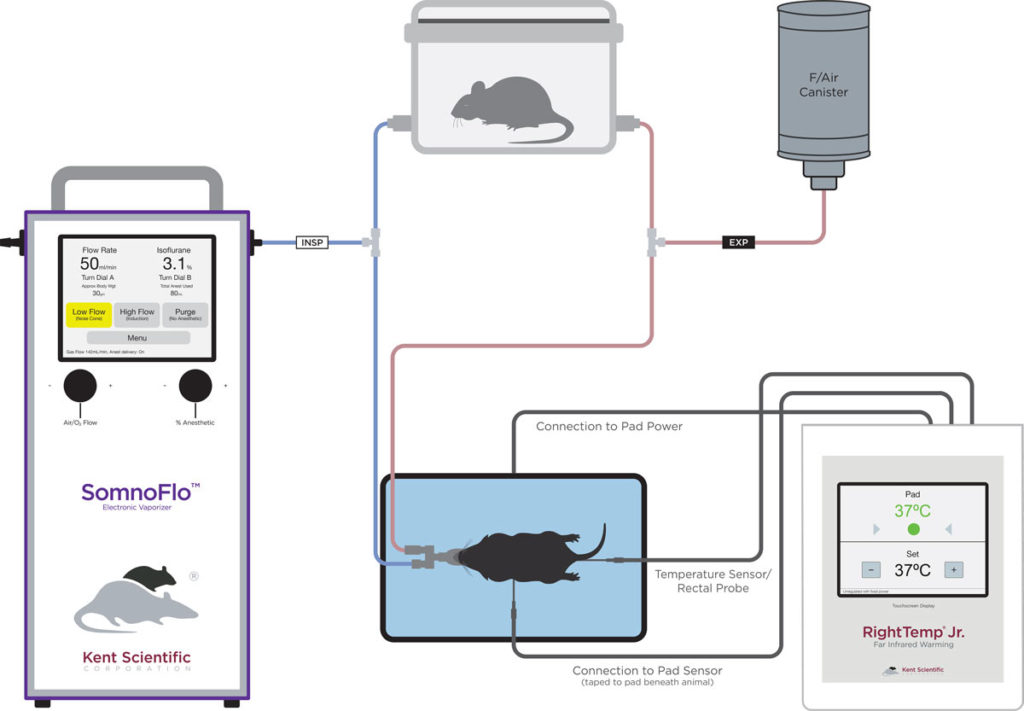 | | |
| --- | --- |
| Carrier Gas Flow Rate: | |
| Range | 50mL/min to 1L/min |
| Setting | mL/min with display of the corresponding animal weight |
| Sensor | Electronic Gas Flow Sensor to automatically control anesthetic delivery |
| | |
| --- | --- |
| Operation: | |
| Modes | Ambient air from internal compressor or external compressed gas |
| Anaesthetic | Compatible with both isoflurane and sevoflurane |
| Presets | User settable |
| Flush | Yes |
| Maintenance | No annual calibration |